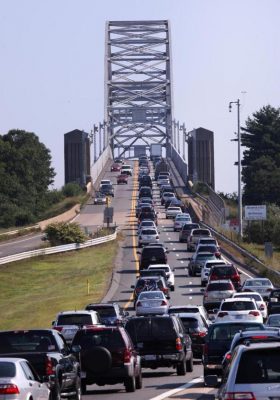 Rely on us to deliver the fun right to you!
We've been delivering to Cape Cod and Southeastern Massachusetts for 25 years – we know our way around!
We bring the fun to you, so you can stay home!  We deliver from Marshfield to Chatham… Falmouth to Middleborough… Plymouth to Dartmouth… We deliver and setup to any location that is roughly a 30-mile radius from our party rental store in Pocasset (Bourne) on Cape Cod.
We usually deliver between 7AM and 12 Noon. We pickup the next day within the same timeframe.  You can request delivery by 10am for a fee. 
Please call our office at 508-759-2255, email us  or request a quote for an accurate delivery fee to your area!
We can't always accommodate specific delivery times, but we try really hard to! If you REALLY NEED IT by a specific time, use our "Guaranteed Delivery" option (see below).
Delivery price also includes complete setup, takedown and pickup of the unit at the location you choose. We pickup the next morning of your rental date.
Combine that with our Low Price, Quality Product and Friendly Service – and you have a Great Value!
*Delivery fees are based on the Zip Code of the delivery address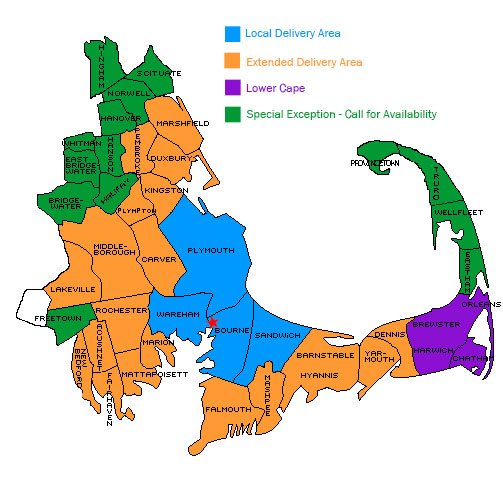 Bourne, Buzzards Bay, Cataumet, Pocasset, Monument Beach, Sagamore, Sagamore Beach, Plymouth, Sandwich, Forestdale, Onset, Wareham, N. Falmouth
Cape Cod: Mashpee, Falmouth, Barnstable, Hyannis, Yarmouth, Dennis, Cotuit, Osterville, Marstons Mills, Centerville, Woods Hole

Off-Cape:  Marion, Mattapoisett, Fairhaven, New Bedford, Rochester, Acushnet, Lakeville, Middleboro, Carver, Pembroke, Plympton, Kingston, Duxbury, Marshfield
Brewster, Harwich, Chatham, Orleans, Eastham, Wellfleet
Outer Cape Cod: Eastham, Wellfleet, Truro, Provincetown
Southeastern MA: Dartmouth, Freetown, Hanover, Halifax, Hanson, Norwell, Scituate, Hingham, Bridgewater, E Bridgewater, Raynham, Taunton
Specific Delivery Times and Early Party Policies
We will deliver your unit anytime between 7AM and Noon. We will pick it up the following morning anytime between 7AM and Noon. ABB Moonwalks does not promise that we will deliver your rental or pick it up by any specific time. However, if your party starts before 12:30PM we recommend that you purchase "Guaranteed Delivery" for an ADDITIONAL $35 charge on top of the normal delivery fee.  Same day pickups are also available for an additional fee. Please call 508-759-2255 or email our party rental store for a delivery fee quote.
What is "Guaranteed Delivery"? "Guaranteed Delivery" means that we will arrange our delivery routes with preference to your party in order to get there by the specific time you have requested. The extra charge affords us the luxury of sending two trucks to one area when needed to accommodate your request. Delivering rentals out of order would extend the delivery routes and times for all customers.
Why can't I get it by a specific time without paying for Guaranteed Delivery? It's possible, but we cannot make any guarantees that it will be there by that time. We try our best to accommodate specific delivery time requests, but there are a number of factors to consider when putting together a delivery route. We must take into consideration the location of other deliveries that day, traffic in the area, as well as where the rentals were located the previous day, and to make sure we get the rentals to all customers as early as possible. At times it will cost us extra time, employees, and vehicles in order to accommodate your special request, which is why we will only guarantee if you pay the extra fee. Delivering rentals out of order can prolong delivery times for all customers.
We accept cancellations 7 days PRIOR to (but not including) your rental date to cancel your reservation and be refunded (minus 5%/$15 max administrator fee). Once you are within 7 days of your rental date and you cancel, your deposit is non-refundable (but can be used as a store credit for a future rental). For example, if your rental is on Saturday, you can cancel up until 2pm the Saturday before, and your deposit will be refunded.
What if it rains on my rental date? We will accept a weather-related cancellation on the day of your rental if you call the store by 8am on the morning of your rental.  Once you accept delivery, your deposit and/or full rental fee will not be refunded.